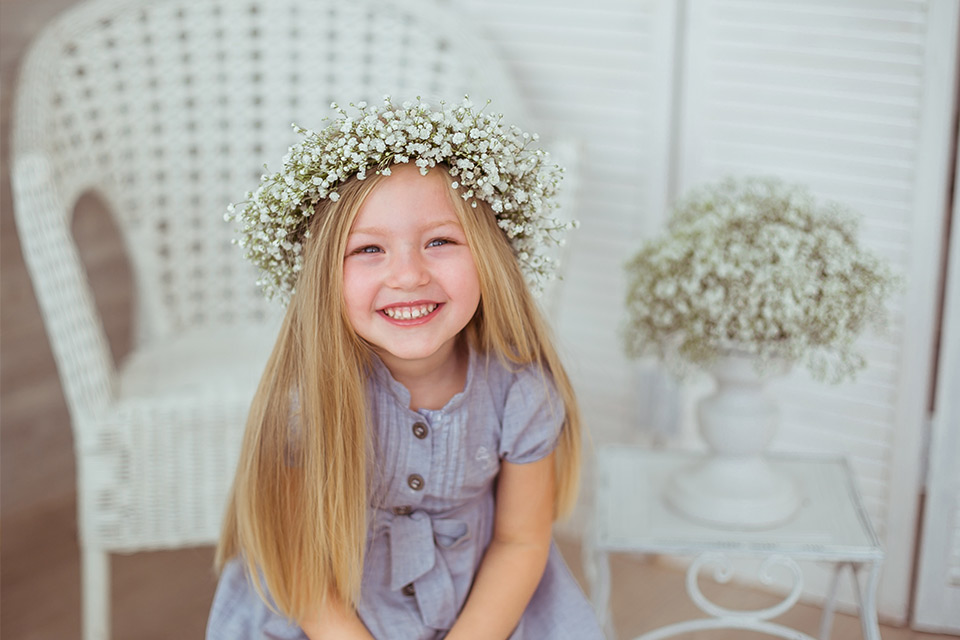 Flower crowns have come back into fashion over the past 5 years. While they are widely popular at the moment, the idea of a flower crown or flower halo is nothing new. Wearing a flower crown has been dated as far back as ancient Greece.
While today flower crowns are more often worn as an accessory, there is a lot more to the flower crown than you may think.
The Ancient Greeks Wore Flower Crowns for Multiple Reasons
Flower crowns were extremely popular during ancient Greek times. Often worn during ceremonies as a way to honor the gods, the Greeks favoured flower crowns as a way of showing respect and achievement to army victors. Queue images of Julius Caesar and his laurel leaf wreath.
Medieval Times Saw a Decline in Flower Crowns
During this time period flower crowns became almost non-existent. The reason being was Pagan rituals often used flower crowns as a way to honor and adorn statues of pagan gods during religious ceremonies. To be seen wearing a flower crown at this time could see you tried and convicted of being a witch!
The Victorian Era Revived the Humble Flower Crown
Queen Victoria brought the flower crown back into fashion as she wore a stunning orange blossom flower crown in her hair during her 1840 wedding to Prince Albert. Like the white wedding dress, from this time on it became popular for brides to wear an orange flower crown on their wedding day.
Modern Day Flower Crowns
Modern day flower crowns have come a long way from simple laurel wreaths. These days we see flower crowns being worn at weddings, festivals, baby showers and even out to birthday celebrations. Why are flower crowns so popular? Well, besides the fact that they look stunning they are so easy to customise.
A flower crown can be as bold or as simple as the wearer likes. Use a crown as a splash of colour to a black dress or go really over the top to stand out at your local music festival. The options are endless.
How to Create a Perfect Flower Crown
Creating a flower crown is a fun way to bring an outfit together. With the help of a local florist you will be able to assemble a visually spectacular piece that everyone will love.
Choose the right flowers
Choosing the right flowers for your flower crown is essential to ensure your crown fits in with your overall look. Think about what you will be wearing on the day and the occasion that you will be wearing the crown. For example, as a bridal flower crown you may prefer a more simple, elegant design that fits in with your dress. Compare this to a music festival where you are more likely to want a design that stands out and makes people pay attention.Your florist will be able to recommend the best flowers for the occasion. If there is a colour scheme, they will also be able to help tie everything together.
Get the timing right
Fresh flowers give a real edge to a flower crown but they need to be kept fresh. Picking up your flower crown too far in advance may compromise the look and integrity of your crown. If you do need your crown a day before the event, speak to your florist to see how you can help keep your flowers fresh and looking their best ready for the event day.
Consider two crowns
Two crowns you say! Yep, that's right! For long events such as a wedding, you may want to consider two crowns. A bride often has to be ready hours in advance of her wedding. This means your crown is generally on well before you walk down the aisle. Come the time for your reception, depending on the climate, your flower crown may be looking a bit worse for wear. Seeing as you will be taking pictures all day, a second crown can be used to refresh your look. This is also a great way to change up your look during the day. A smaller, delicate crown can be worn during the ceremony and a brighter bigger crown can be worn when it's time to party!
No matter what the event, a flower crown is the perfect accessory. A fresh flower crown is wearable for anyone of any age. Speak to the team at FlowerFlow to see how we can help make your flower crown dreams come to life.