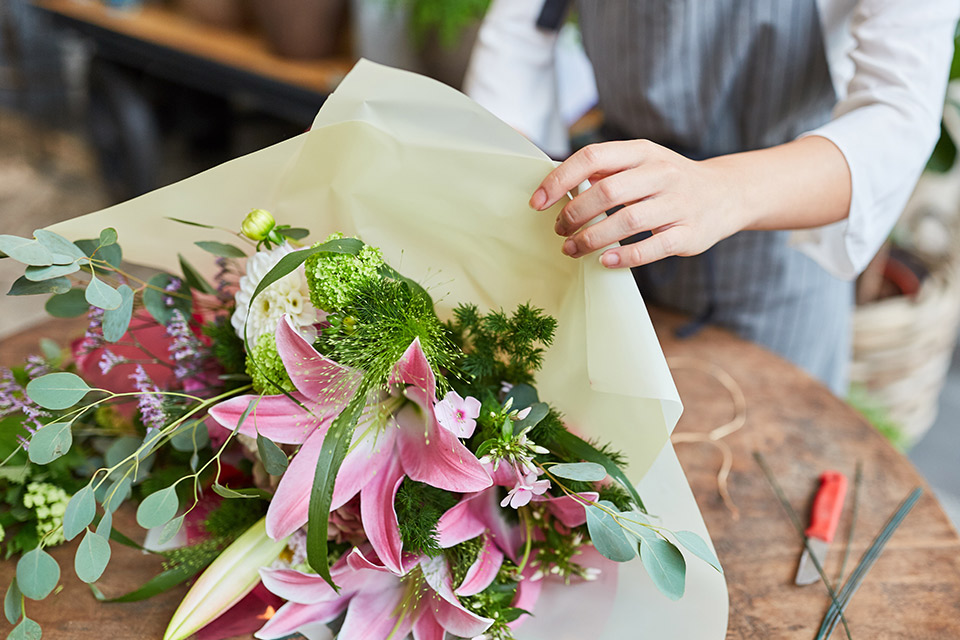 Have you ever had a knock at the door only to open it and have an impressive bouquet of flowers waiting on the other side? Or, maybe a flower arrangement sent to your office or workplace. No matter where you are, receiving flowers you weren't expecting is always a fantastic surprise.
Once your flowers are safely inside your home you are challenged with the task of displaying them. For some this is easy but for others they may need a bit of guidance. Read on to learn how you can keep your flowers looking their best. 
Find a Vase
Your first step is going to be finding a vase or vessel large enough to hold your flowers. Make sure you find a vase big enough to safely hold all of the flowers and water without toppling over. If you have been lucky enough to receive a flower arrangement already in a vase then you don't need to worry about this step. 
Unwrap Your Flowers
Carefully unwrap your bouquet and remove any cellophane, hessian or paper wrapping. It's best to lay your flowers on a flat surface while doing this so that you don't accidently lose any flowers. Generally bouquets are held together with rubber bands or twine which you can remove before adding to your vase. Keep an eye out for a sachet of flower food that your florist may have included. This is to be added to the vase water to help your flowers last longer. 
Prepare the Vase
Prepare your vase by making sure it is thoroughly clean. Soapy water can be used to give your vase a good clean but make sure you remove all soap suds before adding your flowers. Once clean, fill your vase with fresh water and add in the flower food (if you received any). 
Add Your Flowers
If you are happy with the current arrangement of your fresh flowers then you can add them straight to the freshwater. Otherwise, you can use your own creative flair to rearrange your flowers into an arrangement that you like. A florist will always use flowers and foliage to create a stunning arrangement, however, don't feel afraid to change it up.
Display Your Flowers
For some, this can be the hardest step. Finding the right place to display your fresh flowers can be a tricky business. In the kitchen, in the lounge room, in the bedroom, where will you put them? Consider your home's colour scheme and add the flowers to the room you think the flowers compliment best. Don't be shy to change it up, there are no rules when it comes to displaying your flowers so try to think outside the box. Or, simply display them in the room you spend the most time so you can stop to admire them. If you're stuck for ideas, FlowerFlow has come up with a few great ideas to display flower arrangements. 
Maintenance
Once you have arranged the flowers and put them up on display, make a note to check on your flowers every few days. Change the water as needed so that it stays nice and clear. You can also cut an inch off of the stems of your flowers to ensure they stay fresh and can suck up the water they need. Remove any brown or dead flowers or foliage to keep your arrangement looking its best. Click here to learn tips to make your flowers last longer. 
The FlowerFlow Difference
FlowerFlow is dedicated to providing fresh flowers to wholesalers and retails, ensuring that your surprise flowers are stunning every time and last as long as possible. Contact us to learn more about the flowers and foliage we can provide all year round.